Why More Millennials Are Getting Cosmetic Surgery? Study by Zalea
A recent large-scale survey on the subject of Millennials and Cosmetic Procedures administered by ZALEA indicates that this younger generation is much more open to the idea of undergoing some form of a cosmetic procedure but are very specific about how they make their decisions. The study consisted of an equal distribution of male and female respondents with 65% between the ages of 18-24 most making less than $50K annually.



It was found that nearly 40% of millennials surveyed have either had a cosmetic procedure or are considering having a procedure(s), which illustrates a sizable generational shift and openness to various cosmetic treatments and procedures compared to older generations.



"By and large, this younger Millennial generation appears to express much more willingness and less preconceptions about procedures," says ZALEA Co-founder Louis Scafuri, "We believe that demand for cosmetic procedures will increase in both men and women throughout the lives of this generation and it's become considerably more socially acceptable."

Research for Cosmetic Procedures

One revealing find from the study is that, when it comes to the initial fact finding mission about cosmetic procedures, Millennials appear to rely mostly on Google Search than on family and friends to obtain information.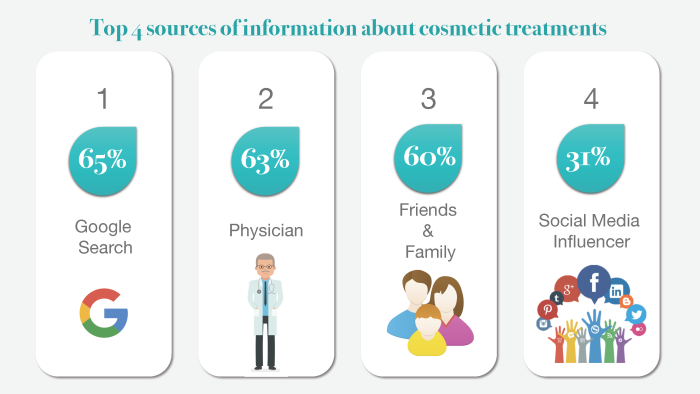 They also obtain information about cosmetic procedures through the social media influencers they follow. These results differ considerably from previous surveys of 40+ age groups that found only 1 in 4 rely on social networks for information. 



"What this shows is that, especially with the prevalence of fake news on the internet, there's a real need to make sure that accurate and unbiased information is available to potential patients," continues Scafuri. "If these younger Millennials are making decisions based on what they're reading online, it's critically important to their health and well-being that they have access to the information that will help them make the most informed decisions and do what's right for them."


Influences on decision making process

When it comes to actually making a decision whether to have a cosmetic procedure or not, the ZALEA Millennial study revealed that this generation views physicians as having the most influence on their decision to undergo treatment, followed closely by friends and family.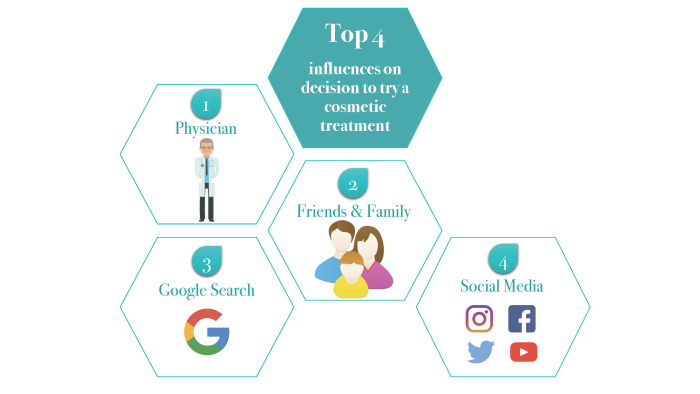 Once again, Google Search holds significant influence in decision making while celebrity endorsements have the least impact with only 5% of the respondents stating that celebrity endorsements had any relevance.

Social Media Usage
Not surprisingly, social media plays an important role in the life of a Millennial. Survey results indicate that this demographic is on social media networks almost every day of the week and sometime even use more than one platform per day. Facebook is the most popular with the average respondent using Facebook on 5 days per week.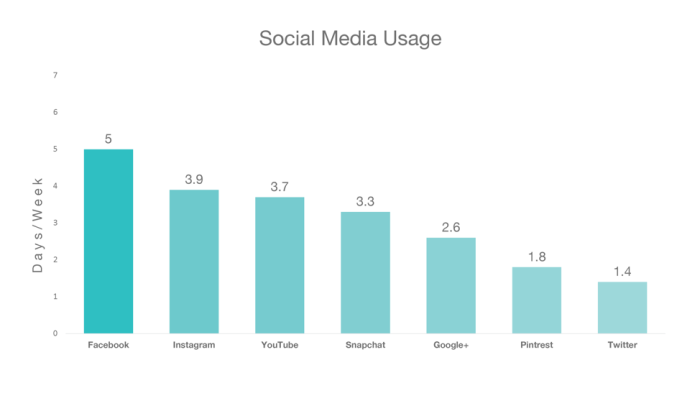 This was followed by Instagram, YouTube and Snapchat which are used by this group more than 3-4 days/week.

Provider Choice
Once the decision to undergo a cosmetic procedure is made, survey respondents reported that their top two sources for recommendations on a provider are friends and family (75%) and a referral from their family practice or OB/Gyn (65%).

Provider loyalty does not appear to be as big of an issue for Millennials. Only 33% expressed loyalty to a provider that they've gone to for procedures previously.

As far as choosing where to get a cosmetic procedure done, 90% of respondents said that a providers' credentials are the most important factor in their decision. Other important factors when choosing a cosmetic provider is Physician Reviews (79%), pricing (78%) and, notably, payment options (73%) were very important.

According to our findings, Millennials shop for providers based on credentials, price and reviews as top considerations. It's worth noting that 85% of respondents said that they will research a price before they contact a provider and will research on average 6 providers before they make their final decision.


Nearly 62% of Millennials surveyed considered dermatologists as their first choice as a provider. Other top choices include certified plastic surgeons (53%), OB/Gyn's and Family Practice physicians (41%). Both MediSpa's and Registered nurses would be considered by over 42% of the respondents. One thing that stood out was the fact that close to 58% of the respondents were unsure about these providers.


When asked how long is an acceptable time to wait for an appointment, respondents indicated that accessibility was a major concern. Wait times for appointments less than 2 weeks were acceptable to 55% of the respondents- but 30% want the appointment in less than 1 week.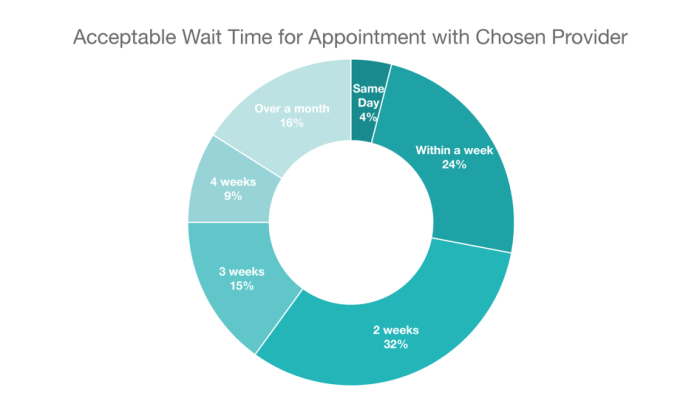 ZALEA's conclusion is that Millennials largely shop for cosmetic procedure providers based on credentials, reviews, price and accessibility as top considerations.

The study also indicates that there appears to be a high demand for accurate, unbiased information about cosmetic procedures from potential patients. Millennials are making decisions based on what they're reading online and it's becoming critically important to their health and well-being that they have access to credible information that will help them make the most informed decisions and do what's right for them.


Have you been wanting to have a cosmetic procedure but putting it off because you thought you couldn't afford it? Is the cost of going to the best dermatologists and physicians just out of reach? With ZALEA FINANCE the time is now to pursue that cosmetic procedure you've been dreaming of.