Vitiligo: Below the Surface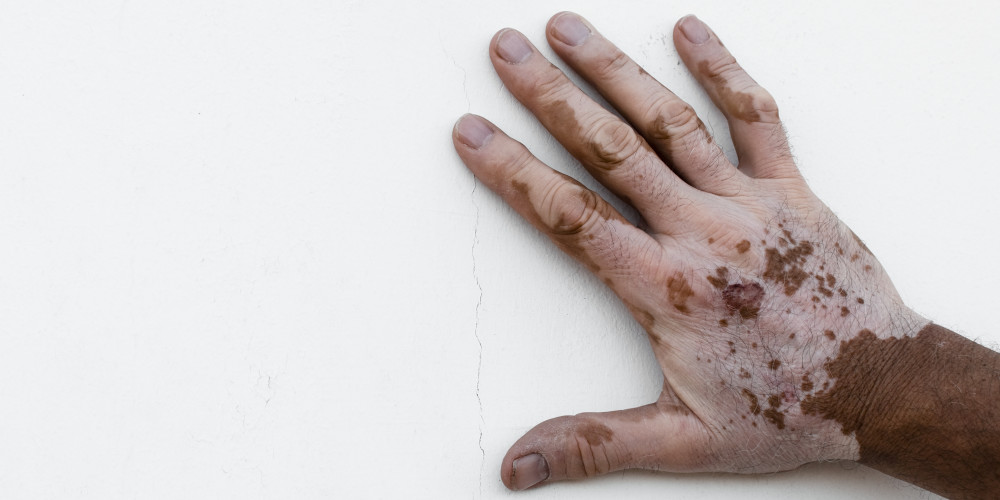 By Francesca Ortenzio, MD, Resident Physician

In the public sphere, the word 'vitiligo' may evoke images of Chantelle Brown-Young who is known as 'Winnie' to fans, recently shot to fame as an America's Next Top Model finalist. Winnie has vitiligo, and the symmetrical, milky white patches on her face and body, which she has said were a source of great distress in childhood, have become at least in part, a contributor to her breakout success. Winnie's fame has indeed spawned an important dialogue about beauty in the fashion world and will perhaps inspire the other 1% of Americans with vitiligo to share how this condition impacts their lives on more than just a surface level.

Vitiligo is a disease in which the pigment-producing cells in the skin disappear, leaving behind areas of porcelain white skin. While these patches are clearly visible on dark skinned individuals, the same patches can be almost invisible on light, untanned skin.

Although the underlying cause of vitiligo is still hotly debated in scientific circles, one thing is for sure: vitiligo is more than simply skin deep. Numerous diseases afflict vitiligo sufferers at much higher rates than the general population including diabetes, thyroid disease and irritable bowel syndrome. Notably, individuals with vitiligo have an over 30-fold increased risk of myasthenia gravis, a debilitating neuromuscular disease and alopecia areata in which bald patches develop on the scalp.

Arguably, the most detrimental aspect of vitiligo is it's profound psychological impact. The stigma associated with vitiligo dates back thousands of years to ancient Egypt, when it was easily confused with leprosy, a contagious disease. Although vitiligo is now understood to be non-communicable, the stigma still persists. In fact, recent studies show that the degree of social alienation experienced is actually the most influential factor in how vitiligo sufferers perceive their overall quality of life and sense of well-being.

Studies show vitiligo poses significant cultural hurdles, such as individuals facing decreased marital prospects in parts of India and negative repercussions felt by married couples in China. As public awareness of vitilgo increases, hopefully, so will our understanding of this complex condition and the ways it affects the lives of those around us and the global community at large.


This Zalea Original piece was edited and approved by the Zalea Editorial Team.