Making Sense of Body Acne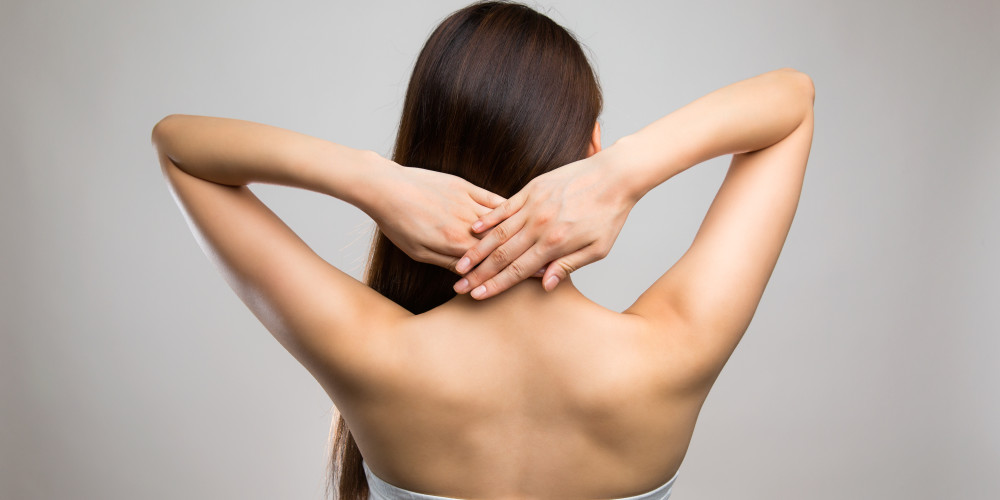 Summer skin and body acne go hand in hand. Though I'm lucky enough not to suffer from chest, back or butt blemishes myself, too often I'm asked what can be done about this condition, making it painfully clear that it is a big problem for many. For sufferers, body-baring swimsuits, plunging necklines and backless tops are avoided like the plague because no one wants to flaunt this skin issue. Body acne is one of those things, that if you have it, it's often first and foremost on your mind, crushing confidence in its wake. Luckily, there's a lot that you and your doctor can do to get a handle on it. Miami-based, board certified dermatologist
Dr. S. Manjula Jegasothy
enlightens us. Here's what she had to say and how you can rid yourself of body zits, once and for all:
Why do some people get body acne while others don't?Dr. J:
People who have a more oily skin type and are prone to facial acne are also more prone to body acne.
Is body acne different from acne that occurs on the face?Dr. J:
Body acne, like face acne, occurs when pores are clogged. However, sometimes you get bumps on the body that look like acne, but technically they are folliculitis, which occurs when hair follicles become inflamed and infected.
What are the top reasons that body acne is more prevalent in the summer months?Dr. J:
The combination of extra heat, humidity oil and sweat leads to body acne being more prevalent in the summer months. Everything from extra heat, oil, dirt, pore-clogging sunscreens and even hair products running down your back can lead to body breakouts. Tight-fitting clothes that trap heat or rub the skin, causing bacteria to spread, can also lead to breakouts.
We also tend to exercise more during summer months, particularly with high-intensity exercises like weight training and CrossFit to better sculpt our bodies. This raises cortisol levels, which in turn raises testosterone levels, leading to acne.
Should acne on the back, butt and chest be treated the same?Dr. J:
Acne all over the body can be treated the same. Take a shower daily with mild body cleanser containing salicylic acid, like Neutrogena Body Clear Body Wash. After working out, shower and change out of your tight workout attire. If you don't have time to shower immediately, use a wipe containing salicylic acid, like Stridex pads or Proactiv Clear Zone Body Pads, which actually cuts through the sweat and helps prevent acne.
What otc products would you recommend to treat it? Please explain why you like these products.Dr. J:
As mentioned above, I like Neutrogena Body Clear Body Wash, Proactiv Clear Zone Body Pads and Stridex pads. These products contain salicylic acid, which have oil-reducing properties, are easily accessible, and gentle enough for daily use. Pads in particular are small and easy to travel with.
What can be done in-office to treat body acne?Dr. J:
In-office treatments include oral antibiotics, oral contraceptives or Aldactone, and fruit-acid peels with salicylic acid and/or citric acid, tartaric acid, malic acid, pyruvic acid and glycolic acid can all be effective in terms of preventing clogging, keeping oil production to a minimum and reducing inflammation.
What would be a step by step regimen to treat existing body acne and prevent future occurrences?Dr. J:
The key is to prevent sweat and oil buildup from clogging pores. Step-by-step:
1. Shower daily with a pore-clearing cleanser. Rinse out your hair conditioner or hair mask, which contain potentially pore-clogging ingredients, prior to cleansing your skin.
2. Make sure you're using clean towels to blot your skin. You do not want to add additional bacteria and dirt onto the skin.
3. If possible, avoid tight clothes and synthetic fabrics. Stick to loose-fitting clothes made of natural, breathable textiles.
4. Change your bed linen often, at least weekly.
5. If you are dealing with existing body acne, use a spot treatment or medicated wipe.
6. Avoid manual exfoliators such as harsh scrubs as it can further irritate the skin and lead to more inflammation.
7. See a board-certified dermatologist if your existing acne does not improve. It may be that you're dealing with something else aside from body acne.
GLOSSARY
VIEW {{!state.glossary ?'ALL' : 'LESS'}} >