Drug gives bald man full head of hair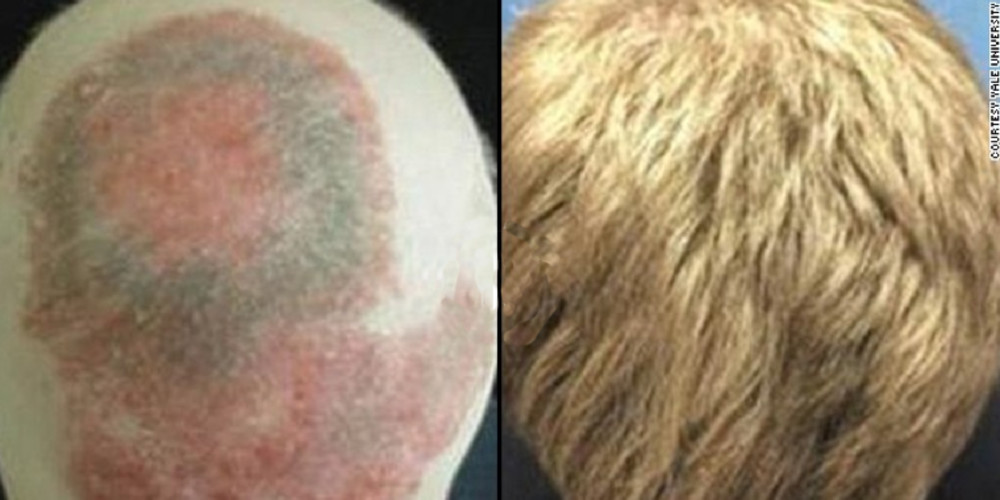 At age 2, Kyle Rhodes was diagnosed with an autoimmune disease known as alopecia areata, which causes hair loss. By 18, Rhodes had lost all the hair on his head and body.

His dermatologist at Yale University, Dr. Brett King, one day decided to try the drug Xeljanz, which is used to treat rheumatoid arthritis, another autoimmune disorder. After eight months, Rhodes fully recovered all hair in his head, eyebrows, eyelashes and body.

While Dr. King thinks that the 6.5 million people that suffer from alopecia areata could benefit from the drug, Dr. George Cotsarelis, chairman of dermatology at the University of Pennsylvania's Perelman School of Medicine, isn't so sure.

"This drug really can have some nasty side effects (…) You really have to decide how much risk you want to (take)" said Dr. Cotsarelis. Actually, according to the drugmaker's website, some people who've taken Xeljanz have died from infections such as tuberculosis, and others face an increased risk of cancer.

Meanwhile, Dr. King hopes to make a cream form of Xeljanz so that a patient can use it right at the source of hair loss instead of taking a pill and exposing the whole body to the drug. However, both doctors agree that the drug won't work for the baldness associated to aging. In fact, Dr. Cotsarelis is emphatic about it as male pattern baldness isn't related to the immune system. In spite of this, for Dr. King conducting more research is worth a try, "the possibility should be imagined and should be investigated" he added.

Although it remains unclear whether it is necessary for someone with hair loss to keep taking the drug for life, Rhodes continues to take it because the drug has helped his psoriasis, which gives him painful dry, bleeding skin. In the hopes of making an even bigger dent against the disease, his doctor recently upped the dosage to six pills a day.

Original Source: http://www.cnn.com/2014/06/20/health/baldness-cure-alopecia/

Early Research with Drug Restores Hair in Patients with Alopecia

In a 2014 study led by Columbia University Medical Center, scientists discovered that a drug used to treat a rare type of bone marrow cancer can restore hair in patients with an autoimmune disease that causes hair loss.

The drug ruxolitinib (approved by the U.S. Food and Drug Administration to treat a bone marrow cancer called myelofibrosis) restored hair growth in a small sample of patients with a disease in which immune cells destroy hair follicles, known as Alopecia areata.

This type of Alopecia can affect both men and women at any age. While patients normally lose patches of hair on the scalp, they can also lose facial and body hair. So far, no treatments to completely restore hair in these patients has been developed. Study leader, Dr. Raphael Clynes, said that "this disease has been completely understudied -- until now, only two small clinical trials evaluating targeted therapies in alopecia areata have been performed, largely because of the lack of mechanistic insight into it."

The researchers identified the immune cells that destroy hair follicles in people with Alopecia areata and discovered that ruxolitinib eliminated these immune cells. The drug was first tested on mice and then in a small sample of people experiencing moderate to severe Alopecia areata – that is, 30 percent or more of hair loss. Three patients had total hair regrowth within five months of starting treatment.

"We've only begun testing the drug in patients, but if the drug continues to be successful and safe, it will have a dramatic positive impact on the lives of people with this disease," Dr. Clynes added.

Original source: http://consumer.healthday.com/cosmetic-information-8/hair-and-scalp-problems-news-341/early-research....

Join the Discussion
zaleareview
GLOSSARY
VIEW {{!state.glossary ?'ALL' : 'LESS'}} >